NEWS
Morality In Media Blasts Lohan's 'Marilyn' Nude Shoot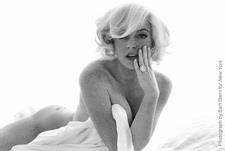 Lindsay Lohan's controversial New York Magazine photo shoot, in which she attempts to recreate Marilyn Monroe's last (nude) photo shoot, is being sharply criticized by media "watchdog" organization Morality in Media.
On Friday, MIM's president, Robert Peters attacked the 21 year old actress, likening her nude photo shoot in the magazine to "soft core porn." In a statement, Peters said:
"Men who subscribe to Playboy for the purpose of viewing naked women don't do so because of their appreciation for great art; so men who buy New York to see a naked Lindsay Lohan won't be doing so because of their appreciation for great art.
Article continues below advertisement
Peters continues, "Of course, with this particular issue of New York, some people can be expected to buy the publication just to see how low a mainstream magazine and Hollywood 'starlet' will go for the sake of notoriety."
Of Lohan and her recent struggle with sobriety and family issues, Peters said, "One keeps hoping that the bitter pills she has swallowed in life will prove medicinal....but either lacking in real talent or now too out of control or lazy to make use of her talents, she has played the fool once again.
"At least in one area of her life, however, Ms. Lohan has shown phenomenal growth. A quick comparison between her partial nudity photo shoot in the February 2006 Vanity Fair, when she was still a teenager, and the nude photo shoot in the February 2008 New York, will show that her breast size has increased astonishingly. Too bad we can't say the same for her good sense."
MIM was established in 1962 in an effort to uphold decency standards in the media. In the past, the organization has criticized other magazines like Cosmopolitan for it's alleged exploitation of women as well as come out against celebrity culture for being immoral and too sexually explicit.