NEWS
More Changes in Idol Judging Format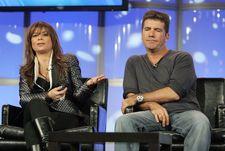 American Idol attempted to solve it's timing issue last week by changing the way the judges critiqued the finalists. But, according to E! Online, fans were not pleased, and so the show will go back to its original format starting next Tuesday.
!, Idol's four judge-format has created a hotly debated topic for fans and critics alike. While ratings are still up, an additional judge has caused some tedious timing issues for the show.
Article continues below advertisement
During last week's show, producers chose to "judge in pairs" in which Simon Cowell and Paula Abdul judged one contestant, while Randy Jackson and Kara DioGuardi judged the next contestant, etc. The idea was to keep the show from going over its allotted time, as it had the week before.
Idol fans were not happy with the new format. Across the internet, they lit up message boards against the new way of judging. On an E! Online poll, 68.2 percent of fans voted against voting in pairs, explaining they wanted to hear what all four judges had to say about each performance.
In another poll, fans also voted on which judge they could do without. Surprisingly, Kara and Paula were neck in neck for elimination.