NEWS
More of the Hottest Celeb Homes For Sale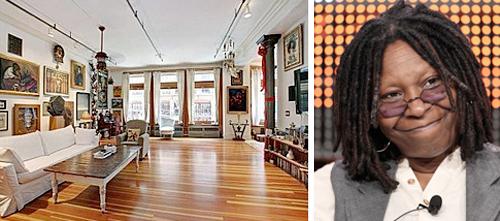 What's that? You won the Mega Millions jackpot? Congratulations!
Now all you have to do is decide whether to buy 50 Cent's sprawling mansion or Whoopi Goldberg's Boho SoHo loft.
It looks like you still have a little luck left after your big win, because OK! has a list of the hottest celeb property on the housing market, courtesy of real-estate site Zillow.com.
These phenomenal pads were the most-viewed celebrity homes that are up for grabs for the right price right now.
Article continues below advertisement
1. Not only is 50 Cent a dope MC, but he's also a shrewd little mover in the property game. The rap superstar bought this Connecticut pad in 2004 for $4 million, and he's now flipping it for nearly $11 million. Smooth.
2. What does $38 million get you these days? About 135-acres, six bedrooms, seven baths, a 20-car garage, two gymnasiums, a stocked lake, a boat house, three ponds, a two-bedroom log cabin and the opportunity to say: "This house used to belong to country star Alan Jackson, you know."
3. Cindy and Carlos Boozer did not have a happy marriage — so now the Utah Jazz forward and his soon-to-be-ex wife have an empty five-bedroom waterfront home in Miami to get off their hands for $6.9 million.
4. The indignity of starring in the Wicker Man remake must not be so tough to bear when you're kicking back in your palatial 5th Avenue pad — and even less so when you sell that pad for nearly $10 million. We'll never laugh at Nicolas Cage again.
5. Oh look — Whoopi Goldberg's SoHo loft is exactly as cool as you'd think it would be. And exactly as pricey at $4 million.