NEWS
More Recordings Reveal Lindsay's Secret Relationships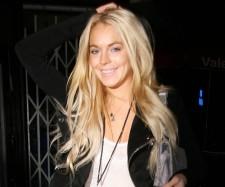 New details have emerged in the ever evolving deluge of information leaked from recorded conversations between Lindsay Lohan's family and friends. In a phone call between Dina and Michael Lohan, Dina claims that Lindsay was dating Heath Ledger when he died, according to recordings obtained by RadarOnline.com.
The sudden death of Heath in January 2008 could have been an impetus for Lindsay's downward spiral."I don't know if you know that, but I know cause I would drop her off and they were friends very, very close, okay?" Dina told Michael.
Article continues below advertisement
Dina told Michael about the relationship, fearing her own daughter's life, Radar reports.
"Because when she's drunk or takes an Adderall with it she will do something like Heath Ledger did in a second without thinking," Dina said.
She goes on to say that the actor's death was a terrible shock to Lindsay.
"That f----d her up," Dina said.
Lindsay's assistant, Jenni Muro, is also concerned for the socialite's life. Tapes of an emotional phone conversation between Jenni and father Michael (leaked to Radar) reveal Jenni's fears that Lindsey will kill herself.
In a taped phone call, obtained by the site, Jenni tells Michael, "I am trying to save your daughter's life every day."
She is so convinced that Lindsay would harm herself, in fact, Jenni tells Michael she wants to stop working for Lindsay "because I don't want it on my watch either."