NEWS
More Slumdog Heartbreak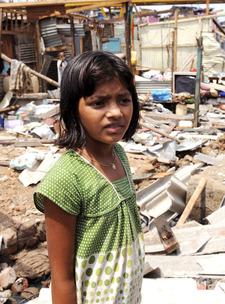 In the continuing saga of the child stars from Slumdog Millionaire, 9-year-old Rubina Ali has lost her home, just as it was announced last week that her co-star Azharuddin Mohammed Ismail's home was also demolished by authorities in Mumbai.
Rubina's family is trying to seek shelter after their shanty was destroyed by bulldozers this week.
"I had gone to the market and when I came back they had razed my house. I don't know where I will sleep tonight," Rubina told Indianexpress.com.
Article continues below advertisement
To add to the pain the family is going through, Rubina's father, Rafiq Qureshi, was hospitalized after being beaten by bamboo baton-wielding police who moved in to level what they said were 18 "illegally built" shacks in their neighborhood of Garib Nagar, which translates as "colony of the poor."
Meanwhile, Rubina is still going to school, and the producers of the Oscar-winning Slumdog Millionaire have a trust set up for the kids called Jai Ho to ensure the children get proper homes, a good education and a nest egg when they finish high school.