NEWS
The Most Desirable Women of 2010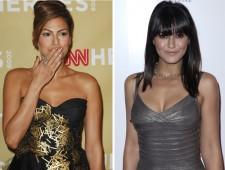 Who are the top 99 most desirable women? AskMen.com posed that exact question to readers, and more than 6 million voters answered. The results, however, were a little surprising. For instance Megan Fox — who would presumably be a shoo-in for a top 10 spot (check out her underwear ad for Emporio Armani) — fell just short, clocking in at number 11. One of the poll's most surprising findings, however, was who voters found to be the most desirable of them all.
Article continues below advertisement
10. Miranda Kerr - Victoria's Secret model
9. Eva Mendes
8. Cheryl Cole
7. Penélope Cruz
6. Beyoncé
5. Jessica Alba
4. Alessandra Ambrosio
3. Kate Beckinsale
2. Marisa Miller
And nabbing the top spot at No. 1.: Emmanuelle Chriqui Entourage actress; Plays Eric "E" Murphy's (Kevin Connolly) on-again, off-again love interest Sloan. At the end of the last season, the couple was engaged!
It is not a surprise that a trifecta of Victoria's Secret Models made the Top 10, but poor Adriana Lima was down at No. 24. Gossip Girl's Leighton Meester (75) beat out co-star Blake Lively (85) by 10 spots. Would more men rather be with Blair than Serena?
As far as the Twilight gals, Kristen Stewart ranked at No. 21 and Ashley Greene trailed behind at No. 41.
Olivia Wilde — who nabbed the top spot on Maxim's Top 100 last year — did not come close to the Top 10, checking in at 49.
The Top 99 Most Desirable Women is decided by an annual poll. AskMen.com asks readers to consider more than instant sex appeal and to cast their ballot based on womanly traits that men "desire most in a potential companion such as intelligence, humor, talent, and character." Eva Mendes held the No. 1 spot in 2009's list and still made the Top 10 this year.