NEWS
Motorcycle Riding Bad Boy Keanu Says Talk to the Hand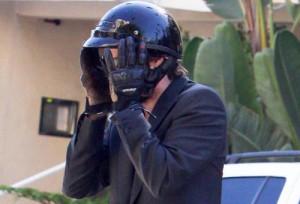 Keanu, Keanu, Keanu. Just because you ride a motorcycle now, doesn't mean you're too cool for a few pictures. When spotted getting off his bike on Thursday outside of a friends house in Beverly Hills, Keanu Reeves did his best to hide from the cameras. Little did he know that putting his hand to his face doesn't help.
OK! GALLERY: JENNIFER ANISTON ACES HER APPEARANCE ON 'THE DAILY SHOW'
Aside from looking ridiculous with his leather gloved hands slapped up against his cheeks, Keanu did have a bit of style.
Article continues below advertisement