NEWS
Movie Legends Get Nasty In Race Row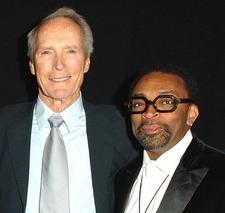 It doesn't take much to make two of Hollywood's most respected, heavyweight directors to turn into a pair of squabbling school kids.
Charged with racism by Spike Lee, the legendary Clint Eastwood told the maker of such powerful works of cinema as Do The Right Thing and Malcolm X to "shut his face."
Now Spike has hit back by calling Clint an "angry old man" and suggesting that he is acting like a slave boss!
Article continues below advertisement
At the Cannes Film Festival in May, Lee complained that the war movie, Flags of Our Fathers, directed by the Dirty Harry star, doesn't show how important a role black soldiers played in the World War Two battle at Iwo Jima.
But the Western hero, 78, said last Friday that he doubts Lee, 51, knows the history of the battle and that he's not about to make a movie historically inaccurate just so it's politically correct.
Clint, who has now made two features about the 1945 conflict on the Japanese island , acknowledged to Britain's the Guardian newspaper that there were some black troops at Iwo Jima.
But he said they weren't part of the story he had set out to tell in the Steven Spielberg-produced picture.
"The story is Flags of Our Fathers, the famous flag-raising picture, and they the black troops didn't do that," he told the paper.
Article continues below advertisement
"If I go ahead and put an African-American actor in there, people'd go, 'This guy's lost his mind.' I mean, it's not accurate."
And Clint had some advice for Spike, the man widely thought of as the most influential black director in America: "A guy like him should shut his face."
But hours after his remarks were printed, Spike, who has just premiered his own WWII movie, Miracle at St. Anna, about an all-black unit fighting in Italy, struck back.
Responding to Clint's trash talk via ABCnews.com, he said, "First of all, the man is not my father and we're not on a plantation either.
"He's a great director. He makes his films, I make my films. The thing about it though, I didn't personally attack him. And a comment like 'a guy like that should shut his face' -- come on Clint, come on. He sounds like an angry old man right there."