NEWS
MTV's 2010 VMA Recap: Kanye Behaves, Eminem & Gaga Win Big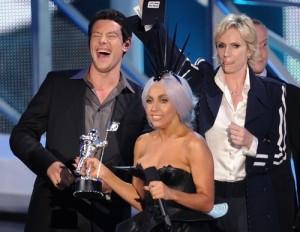 Lots of talk about Kanye West interrupting Taylor Swift in last year's awards during this year's 2010 MTV Video Music Awards, but happy to report Taylor made it through her performance with only applause interrupting her! Although Eminem and Lady Gaga were the moon men winners of the night and Justin Bieber won Best New Artist.
OK! GALLERY: THE STARS LIGHT UP THE NIGHT ON MTV'S VMA WHITE CARPET
Eminem opened the show with "Not Afraid" before Rihanna joined him on the futuristic VMA stage to perform "Love the Way you Lie."
Article continues below advertisement
Justin Bieber made his VMA debut with an outdoor performance in front of hundreds of screaming girls. Kim Kardashian introduced the Bieb's performance by joking about her inappropriate crush on the young star. Usher took over the stage shortly after his buddy Bieber and of course put his dance moves to good use. Even the audience was dancing in their seats!
Florence and the Machine gave a beautiful and impressive vocal performance of "Dog Days are Over."
And Taylor's performance was just as memorable. Opening with a video recap of Kanye interrupting her acceptance speech last year, Taylor then dressed as a 1920's pin-up girl sang a new song from her Speak Now album.
Mary J. Blige and Swizz Beatz helped Drake give his first VMA performance of his song "Fancy."
B.o.B, Bruno Mars, Hayley Williams and Paramore for a long performance of favorite hits from this year.
Article continues below advertisement
Gaga announced the name of her new album, Born This Way and Kanye wrapped up the show with a dizzying performance of his song, but sadly Taylor did not join him!
Check out the list of stars who made it home with a moonman below!
BEST COLLABORATION
Airplanes, B.o.B featuring Hayley Williams
WINNER: Video Phone (Extended Remix) Beyoncé featuring Lady Gaga
Telephone, Lady Gaga featuring Beyoncé
My First Kiss, 3OH!3 featuring Kesha
Empire State of Mind, Jay-Z & Alicia Keys
BEST FEMALE VIDEO
WINNER: Bad Romance, Lady Gaga
Tik Tok, Ke$ha
California Gurls, Katy Perry featuring Snoop Dogg
Video Phone (Extended Remix), Beyoncé featuring Lady Gaga
Fifteen, Taylor Swift
BEST MALE VIDEO
WINNER: Not Afraid, Eminem
OMG, Usher featuring Will.I.Am
Airplanes, B.o.B featuring Hayley Williams
Find Your Love, Drake
In My Head, Jason Derulo
BEST HIP HOP VIDEO
Article continues below advertisement
Airplanes, B.o.B. featuring Hayley Williams
WINNER: Not Afraid, Eminem
Forever, Drake, Kanye West, Lil Wayne & Eminem
On To The Next One, Jay-Z & Swizz Beats
Pursuit of Happiness, Kid Cudi featuring MGMT & Ratatat
BEST NEW ARTIST
Tik Tok,, Ke$ha
In My Head, Jason Derulo
WINNER: Baby, Justin Bieber featuring Ludacris
Massive Attack, Nicki Minaj featuring Sean Garrett
The Ghost Inside, Broken Bells
BEST POP VIDEO
WINNER: Bad Romance, Lady Gaga
California Gurls, Katy Perry featuring Snoop Dog
Tik Tok, Ke$ha
Video Phone (Extended Remix), Beyoncé featuring Lady Gaga
Nothing On You, B.o.B featuring Bruno Mars
BEST ROCK VIDEO
WINNER: Kings and Queens, 30 Seconds To Mars
Uprising, Muse
Ignorance, Paramore
Dog Days Are Over, Florence + the Machine
Flash Delirium, MGMT
BEST DANCE MUSIC VIDEO
WINNER: Bad Romance, Lady Gaga
I Like It, Enrique Iglesias featuring Pitbull
Evacuate the Dancefloor, Cascada
Sexy Chick, David Guetta featuring Akon
OMB, Usher featuring Will.I.Am
VIDEO OF THE YEAR
WINNER: Bad Romance, Lady Gaga
Dog Days Are Over, Florence + The Machine
Kings and Queens, 30 Seconds To Mars
Telephone, Lady Gaga featuring Beyoncé
Not Afraid, Eminem
Airplanes, B.o.B featuring Hayley Williams