NEWS
The Muppets Honored With Star On Hollywood Walk Of Fame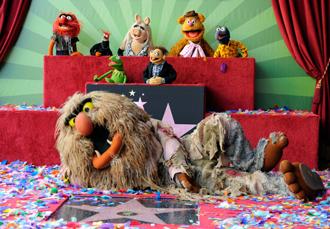 Today the cultural institution known as The Muppets were honored with the 2,466th star on the Hollywood Walk of Fame in Los Angeles, Calif.
It's been a long time coming for our favorite friends, who have remained a global presence with over fifty years in the business.
Kermit the Frog said about the honor, "We are all thrilled to be here today. So the Hollywood Walk of Fame people can honor all the Muppets."
Article continues below advertisement
"And they're right up there with moi," Miss Piggy retorted.
The Muppets star coincides with the release of their movie The Muppets out on Blu-ray and DVD today.
If you haven't seen The Muppets parody of The Hunger Games, check it out below.