NEWS
Must-See! 'Breaking Dawn — Part 2' Trailer Starring Robert Pattinson and Kristen Stewart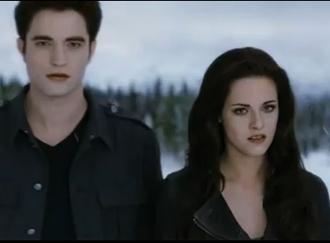 The time that we have all been waiting for has finally come. The trailer for the long-anticipated final installment in The Twilight Saga: Breaking Dawn — Part 2.
Bella (Kristen Stewart) is relishing being a vampire, something that she believes she was truly born to be. With red eyes and pale skin, Edward (Robert Pattinson) can't believe that they are finally the same temperature, while Jacob (Taylor Lautner) is shocked when he sees her and she doesn't seem all that different. Did he not notice the piercing red eyes?
Article continues below advertisement
But that happiness doesn't last too long, because the Volturi get wind of the birth of Edward and Bella's daughter Reneesme, and they are convinced that she is an immortal child that must be destroyed!
Before long, it is all-out war with the Volturi as the Cullens are adamant about protecting the newest addition to their family at any cost! We got chills just watching this trailer!
The dramatic conclusion to Breaking Dawn hits theaters on Nov. 16! Will you be there opening night?
Check out the trailer below!