NEWS
Mya Gives Her Dogs Massages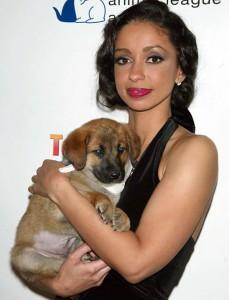 Mya pampers her four dogs and two cats by giving them extra-special treatment.
"I give my dogs massages," the singer, 31, laughs during a North Shore Animal League event. "You massage them like a person, from the feet. That's where you hold a lot of your tension in dogs, and they're walking on cement or even grass for that matter, or you take them for long walks during the day. Their bodies get sore, just like humans, so it's a nice treat."
Article continues below advertisement
She adds, "There are some spas and salons in Los Angeles that do that kind of thing, and actually have units where the dogs can get water massages. It relieves a lot of tension and stress from the dogs. But it puts my dog, Bear, to sleep! He loves it. He climbs on my bed and waits for his massage now."
Hmm, how do the dogs and cats get along?
"They all live amongst each other in the same house in Maryland. We have a lot of land, so they can run and get exercise. And they love each other!"
She adds, "It's like a reality show without voiceovers. They have emotions, they have personalities and each one has their own identity and niche. Bear loves to be the grandfather. He's the most loving, and the most intimidating based on his looks. Rambo is the queen bee. She's the oldest – she's 11. She was the first, so she gets jealous when a new animal comes into the house. Pepper - all she focuses on is the ball. She has tunnel-vision, and that's all she cares about. Swango is the newest addition to the family. She jumps on all the dogs, so she's pretty much an alpha dog, even though she's the smallest. laughs And then there's two cats. They are what they are. Mellow's relaxed, and Journey is relaxed as well. Mellow likes to escape. He likes to go outside."
Article continues below advertisement
Still, pets are nothing compared to kids.
"All these pets require time, affection and responsibility," she says. "You do have to pick up mess, you have to clean up things that are damaged. Furniture is ruined. Those are the realities of having a kid, or an animal with teeth that are going through teething or attitude phases. "
She continues, "Bear is two years old, and he hasn't gotten out of his attitude phase. He rebels by chewing up my couch, so I'm not getting furniture until he grows out of it. But it prepares you for motherhood because you have to take care of their health. Their annual shots are important to maintain their health. Outside of that, you're concerned about their well-being, their emotions, their future. Maybe not their college education, but you develop a language, and you want the best for them. I realize that I have a big soft spot that will probably be used one day for a human child, but they're my kids for now. I'll always have animals in my life."
How does she discipline them when they're being bad – chewing up the couch, for instance?
"One thing you don't do is hit dogs," she explains. "I read that in a book. You don't use your hands as weapons in correctional situations. When you're walking a dog, using yanking and using the leash close to their chin versus their backs works. This is where they feel the most pain. It's a yank. It's not abuse. It corrects them abruptly, but firmly so they feel it, and they know what 'no' is without having to swipe them. Also, repeating words is a no-no when it comes to your dog. You have to be the caretaker, you have to be the authority, you have to be the hierarchy in their lives."
Article continues below advertisement
She continues, "And they understand energy. They will know when you're not confident, but they will know when you forcefully say one word once, they will understand by tone and energy what that means. It could be any word, but it's how you say what you say. Repeating it means they're challenging you. There are all kinds of dog books that I study when I'm training a puppy. I take them to training classes as well as my mom's to make sure we don't have any animosity in the family. We have all kinds of sizes of animals. It's very important that they're welcomed without harm, so there's all kinds of tricks in the books to do that. And treats!"
Want to meet your BFF? Adopt a shelter pet today. That's where we got our girls, Mysty and Spense, and they're the sweetest, most loving cats.