NEWS
Mya says 'Life Is Too Short'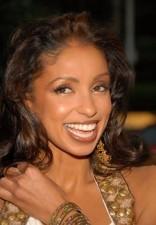 Mya, 29, rolls up to NYC's Sol nightclub in a white limousine to attend a benefit for Skool'd, which helps homeless gay, lesbian, bisexual and transgendered youth.
"This foundation supports those who have no foundation or backbone," she tells me. "We're dealing with lots of folks judging — even parents. That's the greatest thing you can lean on in times of need. Because of preference of lifestyle, lots of kids are kicked out of their homes. I don't think that's fair. Knowing that you have a backbone is the most important thing in life."
Article continues below advertisement
Pulling your life back together after losing a special someone is a subject Mya knows well, having endured a painful breakup. She takes the inspiration to heart on the ballad Life Is Too Short, from her upcoming album Liberation.
"I was in the middle of trying to get over a breakup when I wrote the song," she tells me. "I was having a grudge issue and a big ego on my shoulders. Something woke me up. My dog actually died, and I came to the realization that 'Mya, you're tripping and you need to wake up.' Tomorrow's not promised. You may love someone, you may have a grudge because of something that they did to you and it was unfair, but life's not fair. Life is very short, so clean up your grudges. Let's not hold them. You can communicate with each other and reach out and be the first one to pick up the phone even though you have a big ego. Make sure they're okay even if you're not with them anymore. Accept that you can't control anything. Life is too short to talk about the small, unimportant things when you catch the bigger picture."
Because she lost her laptop when she flew into NYC, Mya performs stripped-down versions of Ghetto Superstar and Ridin.' The crowd loves it!
What's her biggest splurge? Ah, that old standby. "Materialistic things like clothes, but mostly shoes. I don't know how many I have — I have a couple closets full."