NEWS
Nancy O'Dell to Replace Mary Hart on 'Entertainment Tonight'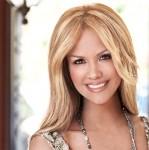 Nancy O'Dell has been named Mary Hart's successor on Entertainment Tonight. after Mary finishes her finale season in 2011, Nancy will take over as co-anchor.
Executive Producer of Entertainment Tonight, Linda Bell Blue, announced today that Nancy will be co-anchor of ET.
Nancy will be joining the ET team as a special correspondent and substitute co-anchor starting in January 2011.
Article continues below advertisement
Mary announced in August 2010 that she will be leaving ET after working there since 1982. After her final show, Nancy will join Mark Steines as a co-anchor.
"Leaving this job was not an easy decision, but knowing I will pass the baton to Nancy O'Dell makes that decision much easier," Mary said. "Nancy is a talented and respected entertainment correspondent. We have spent many years working on opposite sides of the celebrity battlefield; I look forward to now working together, and I know the show will flourish with Nancy as co-anchor."
OK! NEWS: LARA SPENCER TO REPLACE MARY HART?
And Linda is confident in Nancy as well!
"When Mary Hart told us she planned to leave ET at the end of this season, we went into denial. But we also knew we had one tough job to do — find someone to fill that seat. In Nancy we have found that someone," Linda said when making the announcement. "Nancy is not only a talented individual in her own right, but someone who will fit beautifully alongside the very accomplished Mark Steines."
Article continues below advertisement
OK! NEWS: NANCY O'DELL ANNOUNCES DEPARTURE FROM ACCESS HOLLYWOOD
And the new co-anchor is just as thrilled to be joining ET!
"I remember watching Entertainment Tonight when it first premiered and dreaming about working for the show someday! It is the original and the gold standard of entertainment news shows. Needless to say, I am thrilled that my dream has come true. I have greatly admired the show and the incomparable and esteemed Mary Hart — her quiet power and professionalism are beyond admirable. I am honored to be the one chosen to fill a TV legend's seat and I hope I can do her proud!"
"CBS and Linda Bell Blue have made ET the best — both in its classiness and the sheer number of viewers it attracts year after year after year," she added. "I know the show is only 30 years young, so I'm glad I'm joining it at this stage in its life as I plan to make ET my home for many years to come."
Congratulations to Nancy!