NEWS
'Nanny McPhee' Star Emma Thompson: Audrey Hepburn "Can't Really Act"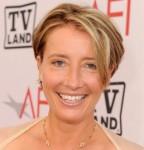 It's Nanny McPhee versus Holly Golightly, as British actress Emma Thompson slams Hollywood icon Audrey Hepburn as a sub-standard singer and actress.
Emma, who stars in Nanny McPhee and the Big Bang with Maggie Gyllenhaal, is writing a new version of My Fair Lady, the classic Cinderella story starring Audrey as Eliza Doolittle.
OK! NEWS: EMMA THOMPSON GETS HOLLYWOOD WALK OF FAME STAR
"I was thrilled to be asked to do it, because, having looked at it, I thought that there needs to be a new version," Emma tells The Hollywood Reporter. "I'm not hugely fond of the film. I find Audrey Hepburn fantastically twee."
Article continues below advertisement
When asked what "twee" means, Emma explains: "Twee is whimsy without wit. It's mimsy-mumsy sweetness without any kind of bite. And that's not for me.
OK! NEWS: EMMA THOMPSON IS MAGGIE GYLLENHAAL'S IDOL
"She can't sing and she can't really act, I'm afraid. I'm sure she was a delightful woman — and perhaps if I had known her I would have enjoyed her acting more, but I don't and I didn't, so that's all there is to it, really."
Meanwhile, the Love Actually actress admits she suffers from mild depression, like her old college buddy House star, Hugh Laurie.
OK! NEWS: HOUSE STAR HUGH LAURIE WILL SING THE BLUES
"I find the job I do emotionally very demanding. I can get overdone from time to time," she says.
"I suffer from occasional mild depression, which I think is a very common thing — it's fantastically common in my country and probably in yours, too — and it's a very much hidden thing people don't much talk about. I think it should be discussed."