NEWS
Naomi Watts of Playing Princess Diana in Biopic: "It's a Big Beast to Take on!"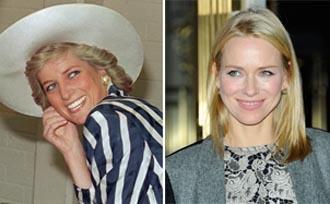 Naomi Watts signed on to play the late Princess Diana in the new biopic Caught in Flight this winter, and the Australian actress is feeling a little trepidatious.
The movie is set to take place after Di's divorce from Prince Charles, and outlines her humanitarian work and new romance with Dr. Hasnat Khan.
OK! NEWS: NAOMI WATTS TO PLAY PRINCESS DIANA IN CAUGHT IN FLIGHT — SORRY JESSICA CHASTAIN
"I'm doing all the research and there is so much to read, I just hope we make a good film and people can learn something new about her that's interesting," she told The Daily Mail. "There are a lot of people that knew her and a lot of books to read and so much information and one story is different to the next so it's hard to gauge what was the truth. It's going to be a tough one, it's a big beast to take on, I just try to do my best."
Article continues below advertisement
No doubt Naomi has the acting chops to pull it off. She wowed audiences in 2004's 21 Grams and earned an Oscar nomination, but the British-born actress is extra careful to portray the princess adequately to her legions of fans, so much so she was tempted to turn down the offer.
OK! NEWS: SEE PRINCESS DIANA AT 50 STAND ALONGSIDE KATE MIDDLETON ON STIRRING NEWSWEEK COVER
"It's a good script and it's very scary, and I kind of wanted to say no but I couldn't," she demurred.
The flick is still in the pre-production phases, and as we reported Jessica Chastain was originally eyed for the role before the filmmakers decided Naomi would be a better fit. Caught in Flight is set to hit theatres sometime in 2013.