NEWS
Nashville Star cutie cut!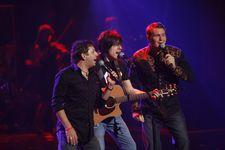 One contestant doesn't get her premiere on tonight's season opener!
Country has gone global, or at least to network TV!
Tonight, Nashville Star, which name a name for itself on USA Network, is moving on up to NBC with a new host, Billy Ray Cyrus, and a new crop of crooners who survived the auditions to get their big country break. Well, all but one.
TV Fanatic has learned that Texas native Charla Corn, got cut from the 12 contestants competing for Nashville Star's top slot the day the show taped its first episode. Producers made the decision after hearing her voice give out before the premiere, realizing they had made a mistaking in casting her. Could be the theme of her next country song!
Article continues below advertisement
Bad news for Charla, but great news for Third Town, who got a call to fill her vacated seat. Third Town dropped everything, including an opening performance for Kenny Chesney, to make it to the Nashville Star stage. Hey, Kenny's good, but he's no reality TV competition series!
Tonight's premiere episode will also include a performance from country cutie Taylor Swift.
Catch the season premiere of Nashville Star on Monday, June 9 at 9:30 on NBC.