NEWS
Natalie Portman & Boyfriend Ben Put Puppy Love First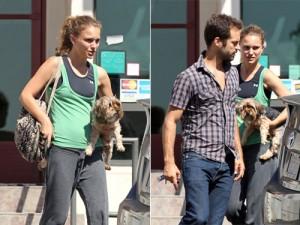 Natalie Portman looked very worried about her pup on Thursday. The star of the upcoming film Black Swan and her boyfriend Benjamin Millepied took their dog Charlie to TLC Pet Hospital in Hollywood for a check up and the pooch looked to be hanging in there! Nat wore work out clothes for her run to the vet, and her main focus was on Charlie. Ben looks like a very supportive boyfriend!
In Natalie's upcoming film Black Swan, directed by Darren Aronofsky, she plays a prima ballerina who has a very mysterious breakdown.
Article continues below advertisement
She also shares an onscreen kiss with her co-star Mila Kunis.
Ben is a principal dancer at the NYC ballet. Wonder if offered Natalie any advice on some ballet moves for the film?
In case you missed it, check out the trailer for Nat's upcoming psychological thriller Black Swan!