NEWS
Natalie Portman on Jake Gyllenhaal: "He's Ugly"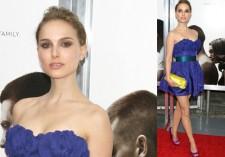 Natalie Portman holds nothing back when asked about working with Brothers co-star Jake Gyllenhaal. "Jake is the kind of guy who can do a spot-on impression of someone you work with that will make you giggle," Nat tells The New York Post's Pop Warp.
"He plays guitar and has a great voice. Kids and dogs love him. He loves his mom and sister and girlfriend. He's perfect," Natalie continues. "Too bad he's ugly."
Article continues below advertisement
The accomplished young Hollywood starlet also seems to have a sense of humor!
Natalie looked far from ugly at a screening of Brothers this weekend in NYC. The dramatic thriller is about a missing soldier (Tobey Maguire) who returns from Afghanistan to find his wife (Natalie) and brother (Jake) having an affair.
Natalie and Jake share some steamy scenes in the film.
Wonder what Nat thinks of Tobey's looks?
CHECK OUT NATALIE AT THE NYC SCREENING OF BROTHERS: