NEWS
Natalie Portman & Mila Kunis Bring 'Black Swan' to the Big Apple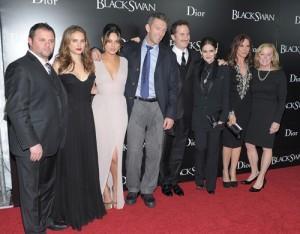 Director Darren Aronofksy and his Black Swan cast ontinued the whirlwind promotional tour for the dark, ballerina thriller movie, appearing at the NYC premiere last night at the Ziegfeld Theatre. Producer Scott Franklin, Natalie Portman, Mila Kunis, Vincent Cassel, Winona Ryder and Barbara Hershey all squeezed in for a picture on the red carpet.
OK! GALLERY: THE GOTHAM INDEPENDENT FILM AWARDS BRING OUT AMBITIOUS FASHIONS
Article continues below advertisement
Although Natalie and Mila are friends in real life, in Black Swan they had to be bitter rivals. Nat explained that in order to supersede that friendship, their director didn't let them spend time together off set.
"It was strange because Darren definitely kept us separate during the filming because he wanted us to develop this rivalry," Natalie explained to reporters. "Which, of course, we weren't going to develop, because he kept us in different rooms but it was strange because we weren't hanging out like we normally do."