NEWS
Natalie Portman Pregnant; Engaged to 'Black Swan' Costar Benjamin Millepied!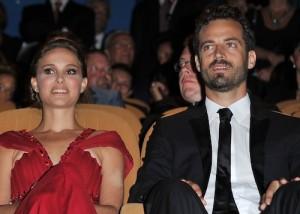 While Natalie Portman had a big year in 2010, it looks like 2011 is going to be HUGE for the actress! Not only is she receiving an abundance of accolades for her profound work in the holiday box office smash Black Swan, Nat's camp has just announced she is engaged and expecting her first child with Black Swan costar/dance partner Benjamin Millepied!
Natalie and her costar are engaged and expecting a baby, her rep confirmed to E! News.
Article continues below advertisement
Natalie, 29, and Benjamin, 33, met in 2009 as Ben served as the choreographer for Black Swan. While working on set, Ben then became enlisted by director Darren Aronofsky to play the part of Natalie and co-star Mila Kunis' dance partner.
While he only had six lines in total, the French-born professional dancer (since age eight) served a crucial role in the film.
In an interview with Details magazine (via MTV news) earlier this year, Ben said he was "blown away" by Natalie's acting prowess and called her "amazing to watch."
He also shared the couple was trying hard to keep their relationship as private as possible.
"It's ... everybody's asking us," he said. "We just want to keep things to ourselves."
Natalie already nabbed a Golden Globe nomination for Best Actress and SAG nod for the role.
An Oscar nom seems like it's also imminent for Hollywood's latest "It" girl.
Congratulations to the happy couple!