NEWS
Natalie Portman's Fiancé Disses Notion of 'Black Swan' Body Double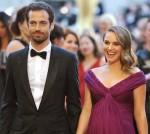 Although Black Swan was released months ago and Natalie Portman earned countless accolades including the Golden Globe Award and Oscar for her mesmerizing performance, lately she's been criticized about the legitimacy of her dance moves! Quick to defend her ballerina chops, her fiance Benjamin Millipied squashes the notion that a body double was used for most of the film.
Article continues below advertisement
Considering he was the choreographer and also danced in the movie, Benjamin knows a thing or two about dancing. He attested, "Honestly, 85 percent of that movie is Natalie." Plus, she trained as a ballerina for an entire year before filming. He added, "It was so believable, it was fantastic, that beautiful movement quality."