NEWS
Natasha Henstridge's Weight Battle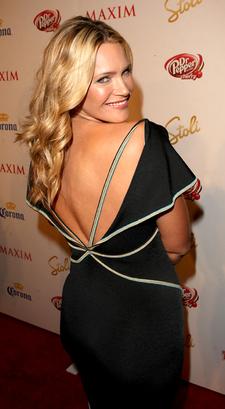 Natasha Henstridge has spoken out about how her struggle to lose weight took her in a dangerous direction.
The beautiful blonde actress, best known for the movie Species and her recent TV series, Eli Stone, told OK! "There's always pressure in this business to stay thin to the degree that I've done some things that probably weren't the smartest things in the world."
While promoting her upcoming ABC disaster movie, Impact, Natasha revealed she wanted to lose weight so badly several years ago that she took diet pills.
Article continues below advertisement
"I've probably taken some pills that are taken off the market these days, that were like, 'Oh, but it just gives me an extra boost when I'm working out,' and it seems innocent enough and it's over the counter. Those things have a huge effect on your metabolism and all of a sudden, when you decide to go clean and healthy, things are changing in your body because you've done a little bit of damage."
Natasha said she never took Fen Fen, but "I've been to Chinese herbalists who've given me things. I lost a lot of weight in 2004 or 2005 and… when you're doing some things that are damaging you, you don't really realize it at the time. You think it's innocent and healthy—Chinese herbs. That sounds healthy and then you realize, what the hell is in the stuff? And people glamorize the whole thing because you're thinner and you've been doing this bad stuff to your body.
"So, my body's definitely gone through a change since coming off all the crazy yo yo stuff," she adds. "My metabolism's changing a little, that's for sure!"
But Natasha looks gorgeous and is now happy to stay fit the sensible way, through an exercise program. In fact, the Amazonian actress is now taking trapeze classes!
"You start off hanging by your knees and the person just catches you and you learn tricks. It's hard," she smiled.
She also does a boot camp class called Pulse Fitness.
"It's a 30-minute treadmill program with bands and various other weight training integrated and they play music and they yell at you — 'Keep up, keep up!' And I like to roller blade and I mountain bike in the hills."
By Carole Glines