NEWS
Nate Dogg, Clarence Clemons & M-Bone Remembered at 2011 BET Awards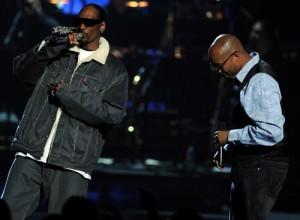 Some of the biggest musicians from the rap, hip-hop and R&B worlds joined together last night at the 2011 BET Awards to pay homage to the legendary members of the music community who were lost this year. Nate Dogg, M-Bone, Gil-Scott Heron, Teena Marie and Clarence Clemons were honored at the ceremony, held at the Shrine Auditorium, and remembered for their impact on the industry.
Cali Swag District hit the stage together with Doug E. Fresh and praised M-Bone for his work and friendship.
Article continues below advertisement
"We love you, bro," they said.
Clarence, the legendary saxophonist of Bruce Springsteen's E Street Band who died last week after complications from a stroke, was honored by a fellow saxophonist who did a solo performance to Springsteen's "Born to Run."
Snoop Dogg and Warren G took the stage together to perform "Regulate" in honor of Nate Dogg.
Queen Latifah recited Gil-Scott's famed poem "The Revolution Will Not Be Televised," in celebration of his life's accomplishments; soul singer Ledisi honored Teena with a moving musical tribute.
Catch the clip, via BET, below.