NEWS
Ne-Yo: I Snubbed Britney for Pussycat Doll!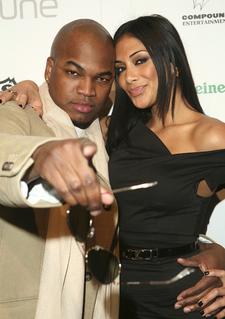 Ne-Yo has revealed that he wrote a bunch of songs for Britney — but then decided he'd rather have a Pussycat Doll sing them instead!
The Closer star said that he was asked to pen a series of tracks for Spears's next album.
But when her career ground to a halt after her meltdown last year, he got so sick of waiting for her to get it together that he slipped them to Nicole from the red hot girl group.
And apparently that didn't go over too well with Brit!
Article continues below advertisement
"We set up multiple sessions where she was supposed to actually come in and give her input on the songs, but she never showed up," the singer told Britain's Guardian newspaper.
"This was before the whole shaving of the head thing, but after that happened, her people stopped returning phone calls."
In the meantime, the So Sick singer met Nicole Scherzinger who said she'd love the tracks for her solo project.
"And when news of that came out," says Ne-Yo, "then Britney's people call me! 'Hey! What's going on? Why're you giving away Britney's music?' I'm like, 'Wait! Until y'all cut me a cheque, I'm givin' away my music. It may've been written with Britney in mind, but it's not hers.'
"I heard that she was upset with me," he continues, "and, you know, I don't care."