NEWS
Need More Charlie Sheen? "Tiger Blood Radio" Has Your Fix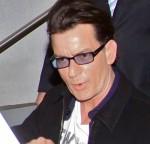 If you're not hearing enough about Charlie Sheen — even with all the TV appearances, his new Twitter account and various websites regurgitating his best, most "winning" quotes —there's a new way to get everything Charlie: "Tiger Blood Radio" on Sirius XM.
The satellite radio company announced today that "Tiger Blood Radio" will be a 24-hour limited run channel that will devote itself entirely to the media beast that is the Two and a Half Men star.
Article continues below advertisement
OK! NEWS: HOWARD STERN WANTS CHARLIE SHEEN TO HAVE "CHARLIE RADIO" SHOW
Starting at 6 p.m. ET on March 5 on Sirius Channel 108 and XM channel 139, listeners will be privy to content that explores every angle of Charlie, his recent chatty talks and how his Adonis DNA will affect his career. The channel will also take "listeners behind the headlines, exploring the media frenzy/media reaction, as well as the medical, psychological, psychiatric and pop culture and celebrity angles."