NEWS
New Honorees Announced for Hollywood Walk of Fame: Jennifer Aniston, Jennifer Lopez, Kate Winslet & More!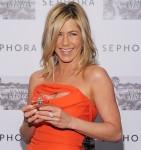 Around this time next June, Hollywood will sparkle a little bit brighter. That's because the Hollywood Walk of Fame Selection Committee announced its 2012 honorees to get their own stamp on the famous sidewalk strip. And by that we mean their very own star! Among the honorees within the categories of motion pictures, television and recording? Jennifer Aniston, Jennifer Lopez and Kate Winslet, to name a few!
Article continues below advertisement
Jennifer Aniston
Kate Winslet
Vin Diesel
Scarlett Johansson
John Lasseter
Malcolm McDowell
Sumner Redstone
Richard Burton (posthumous)
Television
Valerie Bertinelli
Matt Groening
Mariska Hargitay
Patricia Heaton
Marg Helgenberger
Walter Koenig
Adam West
Recording
Jennifer Lopez
Pepe Aguilar
AMERICA
Boyz II Men
Hal David
David Foster
Vince Gill
Ann and Nancy Wilson (Heart)
Barry White (posthumous)
Radio
Ellen K.