NEWS
New 'Hunger Games' Trailer Released!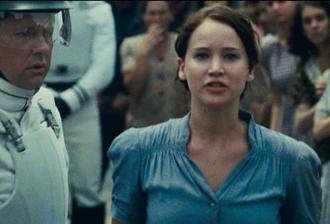 We're getting closer to the premiere of The Hunger Games and in celebration Lionsgate released a second new trailer for the highly-anticipated movie! And this new trailer is even more emotional than the first.
OK! NEWS: THE HUNGER GAMES STARS JOSH HUTCHERSON & JENNIFER LAWRENCE TALK "LOTS" OF CHEMISTRY
The Hunger Games is based on Suzanne Collin's popular novel about an evil Capitol in the nation of Panem (the ruins of what was North America) that every year picks a teenage boy and girl from its twelve distracts to compete in the Hunger Games. The games are a televised punishment from the government in which the 24 "Tributes" have to fight to the death until only one survives.
Article continues below advertisement
The second trailer focuses on Katniss Everdeen's (Jennifer Lawrence) decision to volunteer as Tribute in her younger sister's place. Katniss must say goodbye to the ones she loves including her best friend Gale (Liam Hemsworth) and is forced to fight her fellow distract twelve member Peeta (Josh Hutcherson).
"I just keep wishing that I could think of a way to show them that they don't own me," Peeta tells Katniss. "If I'm going to die, I want to still be me."