NEWS
New Jersey Senator Declares War on 'Jersey Shore'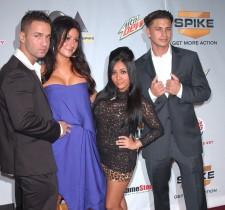 Italian-American groups and actress Alyssa Milano have been vocal in their opposition to MTV's Jersey Shore, now the Garden State's own Joseph Vitale has declared war on The Situation, Snooki and Co.
On Tuesday, Vitale, who is the chairman of the New Jersey Italian American Legislative Caucus, announced that he and his caucus have sent a letter to MTV's parent company Viacom asking them to cancel the racy reality show, reports Popcrunch.
Article continues below advertisement
Even without the controversy surrounding the behavior of the cast — Nicole "Snooki" Polizzi, Jenni "JWoww" Farley, Michael "The Situation" Sorrentino, Paul "DJ Pauly D" DelVecchio, Ronnie Magro, Sammi "Sweetheart" Giancola and Vinny Guadagnino — provoked anger before its Dec. 3 premiere.
Italian-American interest group Unico National has repeatedly asked members to boycott advertisers of the show, which follows a gaggle of young Italian-Americans — self-described as "guidos" and "guidettes" — living together in a summer house in the Jersey Shore community of Seaside Heights.
"Saying that the young people on Jersey Shore represent all young Italian Americans is like saying The Jerry Springer Show represents responsible journalism," Senator Vitale said Wednesday.
"The image of young Italian Americans conducting themselves in a disrespectful and inappropriate manner at a summer home on the Shore may make for good ratings, but it's a fabrication that damages our State and cultural reputations," the Democrat added, before urging Viacom to yank the show.
"Rather than profit off ethnic stereotypes and derogatory myths about Italian Americans, MTV and its parent company, Viacom, should do the socially responsible thing and pull the plug on Jersey Shore."
And to prove just how much he and his Italian-American legislative counterparts detest the show, Vitale has ordered the Department of Labor and Workforce Development to investigate the employment and wage practices, as well as the tax status, of the "Shore Store," the beachfront establishment where the housemates worked while filming the program.