NEWS
New Moon Cast Different as Night & Day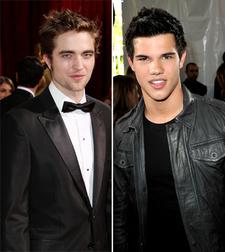 The cast of New Moon is settling into life in Vancouver by enjoying the city round the
clock.
Taylor Lautner, 17, makes the most of daylight (working out with just a car and a resistance band on April 17), but Edward Cullen portrayer Robert Pattinson, 22, rarely
appears before dark, when he heads to Glowbal Grill & Satay Bar.
"He comes in two or three times a week," staffer Gus Tremarco tells OK!.
Some of the cast, including Robert and Jackson Rathbone, headed out earlier this mont with Kristen Stewart to celebrate her 19 birthday.
Article continues below advertisement
You know what they say, the cast that hangs out together, makes great vampire movies together!