NEWS
New Moon Clip to Debut at MTV Movie Awards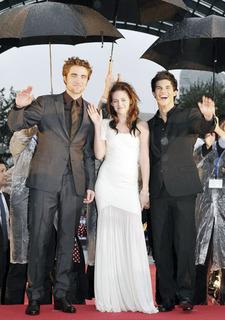 Ah, we can feel it in the air... Twilight mania. And it's about to get even more exciting, even though the next film in the saga, New Moon, isn't set to be released until November: E! News reveals that a brief clip from the upcoming flick will be shown during the MTV Movie Awards on May 31.
Robert Pattinson, Kristen Stewart and Taylor Lautner will also be on hand to present the clip, says show producer Mark Burnett.
Article continues below advertisement
"Fans can tune in to the show to see sneak peeks from three of the most highly anticipated movies of the year," Burnett says. "These clips have never been seen before and we're very excited that The Twilight Saga: New Moon is one of them."
Last year a fight scene between R-Patts' Edward and Cam Gigandet's bad guy James was a hit at the awards, and it was also the first time Rob and Kristen walked the red carpet together.
Andy Samberg will be hosting the show, which will be telecast live on May 31 from the Gibson Amphitheatre in Universal City, Calif.