NEWS
'New Moon' Co-stars Dish on Rob and Kristen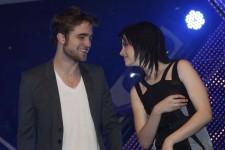 Being part of The Twilight Saga: New Moon gave Justine Wachsberger and Anna Kendrick access to the private world of Rob Pattinson and Kristen Stewart. They share behind-the-scenes dish, and – psst! – one says R-Pattz wasn't the cutest on set.
Justine plays Gianna, the human receptionist who works for the Volturi.
She tells me, "Rob is really nice. He really got into his character. Edward is part of him now, but he's really a gentleman, he's really sweet, he has great manners, he's funny, but he's shy. You would think that with the notoriety that he's gotten that he's pretty outgoing, but he's actually really shy but really nice and low-key."
Article continues below advertisement
And Kristen?
"She's cool. She's really cool. She's funny, down-to-earth. She talks a lot. She's not shy. She's awkward, like you would imagine her to be. That's how she portrays herself in the media, and I think she is like that, but in a good way. She's not an It Girl – I mean, she is an It Girl – but she's not one of those Hollywood types. She's really a cool girl."
Hm, awkward?
"Not awkward, but when you see her, that's how she normally is. She's down-to-earth, she's not one of those girls who is trying so hard to fit in. She is who she is. She's saying 'you either like me for who I am, or you don't.' She doesn't fit into that Hollywood mold."
What are Rob and Kristen like together?
"They're definitely close," she tells me. "They're really normal and down-to-earth. They don't think they're superstars or anything."
Rob, Kristen and Taylor Lautner have earned Anna's utmost respect. (She plays Kristen's best friend in the series.)
"I do not understand how they haven't lost their mind," she tells me. "If I were in that position, I would've completely gone insane at this point, and I'm amazed at how gracefully they handle it, and how down-to-earth they still are, as silly as that sounds. Yeah. I'm constantly amazed by how professional they are, and how they manage to have a head on their shoulders. It seems like an impossible task."
According to Justine, Rob wasn't the cutest guy on set.
She tells me, "The guy I find the cutest is not Rob. It would be Charlie Bewley, who plays Demetri. He's part of the Volturi. He's just cute. He's this little British boy, who is in the same style as Rob, but I believe cuter."
Oh really …
The Twilight Saga: New Moon is in theaters now. And, pick up the OK! on newsstands now. The cover line is "Kristen Tells The World: I'll Love Him Forever."