NEWS
'New Moon' Earns Top Spot in Most Mistakes for 2009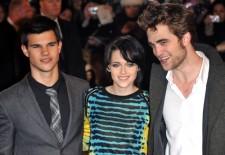 Maybe Twilight Saga: New Moon is not as perfect as we all thought, but we'll still love it anyways! MovieMistakes.com ranked the top 15 Biggest Movie Mistakes of 2009 and New Moon tied for fourth with 29 mistakes. Could be worse though, Zach Efron's 17 Again was No. 1 with 94 mistakes!
The site lists some of the New Moon mistakes that you may not have noticed the first time around.
"When Bella is in the parking lot at school in the beginning, Edward walks toward her. Bella's hair is neatly pulled off to the side," one of the mistakes posted said. "When he leans in for the kiss it is suddenly stuck to her forehead, and when Edward tells her Jacob wants her, it's suddenly back to normal."
Article continues below advertisement
"After Bella awakes from the first nightmare, we see her Romeo and Juliet book on the pillow beside her," the site lists. "When Charlie brings in her presents the book is gone, but then reappears on the pillow between shots."
One movie mistake listed would be hard to catch even with a second viewing!
"When Bella and Jacob are driving in Bella's truck to go test out the motorbikes for the first time, they alternate between driving backwards and forwards," the site explained. "When you see the forest passing through Bella's window, they appear to be driving forwards. However, when you see the reflection of the trees in the windshield when the camera is on Bella and Jacob, they appear to be driving backwards. When they close-up on Jacob and Bella separately through the windshield, it is extremely obvious that they are driving backwards."
The films making up the top five biggest movie mistakes include: 17 Again, Harry Potter and the Half-Blood Prince, Transformers: Revenge of the Fallen and Night at the Museum: Battle of the Smithsonian.
But don't feel bad for Robert Pattinson, Kristen Stewart and Taylor Lautner because they probably see this ranking as a victory!
MovieMistakes.com found 104 mistakes in Twilight!
By those standards, New Moon is a shining star!