NEWS
New Moon Poster Revealed?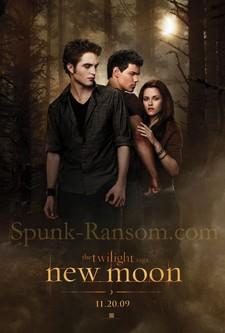 The folks behind New Moon need to do a better job of keeping a lid on the secrets of the sure-to-be huge sequel to Twilight. First, a woman finds a copy of the much-anticipated film's script in the trash, and now it looks like the first official poster for the movie might have also been leaked.
The Robert Pattinson fan site spunk-ransom.com appears to be the first to have scored the artwork, featuring a smoldering R-Patts shielded from on-screen love interest Kristen Stewart by a glowering Taylor Lautner, all set in a very misty forest somewhere.
Article continues below advertisement
So is it the real deal?
"If it's not authentic, it should be," one Hollywood insider tells OK!. "I had no interest in seeing the film, but now... I just might. If I were the one marketing New Moon, I'd say this one's a hit."
New Moon is currently filming in Canada and is set for release on Nov. 20.
<strong><em>Have a news tip or great photo you want to tell us about? Shoot us an e-mail: <a href="mailto:tips@okmagazine.com">tips@okmagazine.com</a><em><strong>