NEWS
New 'Sherlock Holmes: A Game of Shadows' Trailer Shows Rachel McAdams!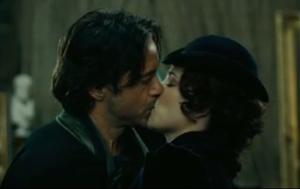 Sherlock Holmes: A Game of Shadows released its second trailer today and it reveals that Rachel McAdams will, in fact, be reprising her role as Irene Adler.
We didn't catch a glimpse of Rachel in the first Sherlock Holmes trailer so we were very excited to see her in the second. Especially when she shares a smooch with Robert Downey Jr.!
Warner Bros. Pictures released a second trailer for the Guy Ritchie-directed film which stars Robert (Sherlock Holmes), Rachel (Irene Adler), Jude Law (Dr. John Watson), Jared Harris (Professor Moriarty) and Noomi Repace (Sim), Coming Soon reports.
Article continues below advertisement
In the trailer, which features lots of action and explosions, Sherlock and Watson team up against Professor Moriarty.
"If we can stop him we should prevent the collapse of Western civilization," Sherlock tells Watson. "No pressure."
Watch the trailer, below!