NEWS
New Tunes Tues: 5 Songs To Know This Week From Zendaya, The Lonely Island and More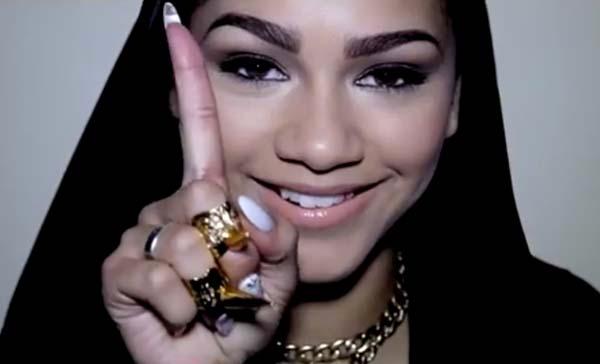 Welcome to New Tunes Tues, where I tell you what newly released songs/albums/music videos etc require your attention immediately. The Grammys are over, but that doesn't mean the new music will stop comin'! Here's 5 songs you'll have on repeat this week after one listen, from Lana Del Rey, Zendaya, Austin Mahone and others.
Photos: All The Red Carpet Pics from the 2014 Grammy Awards
Zendaya, "My Baby." Don't feel bad for Zendaya because her Disney Channel show, Shake It Up, is over. She's doing just fine musically, and even just released a brand new music video for her brand new single! I'm getting mayj old school JLo vibes from this one.
Article continues below advertisement
youtube=https://www.youtube.com/watch?v=N7s31XcmKKA&w=640&h=360
Poll: Listen to Lance Bass, Danity Kane and More New Songs from Last Week
Lana Del Rey, "Once Upon a Dream." This song premiered during the Grammys on Sunday night in the trailer for Angelina Jolie's new Disney film, "Maleficent," but there's nothing Disney about this creepy yet truly beautiful tune. Listen to Lana's dark, mysterious take on the classic right here:
youtube=https://www.youtube.com/watch?v=TZ44x0GnKh4&w=480&h=360
Karmin, "I Want It All." Even though I've technically highlighted this song before in a previous installment of New Tunes Tues, it deserves another mention because now the song is officially on iTunes and Amy and Nick have officially shot the music video. And also because the song is awesome, obvs:
youtube=https://www.youtube.com/watch?v=N8-pl3v9ijg&w=640&h=360
Article continues below advertisement
OK! Exclusive: Enter Now For a Chance To Meet Karmin on Tour!
Tegan and Sara and The Lonely Island, "Everything is AWESOME!!!" I swear that punctuation is part of the actual song title. And you'll understand why after one listen to this new track from the indie pop duo and Andy Samberg's rap group, which is off the upcoming LEGO Movie soundtrack. It's poppy, it's energetic, and it kinda of sounds like a video game, so...what do we think?
Watch: Beyonce and Jay Z Perform Together at the Grammys
Austin Mahone ft. Pitbull, "MMM Yeah." Work with Pitbull, have yourself a hit. That's just how it is. So Austin hooked up (musically) with Mr. Worldwide and their new collabo is pretty darn catchy. And it's already number 2 on iTunes! Take a listen and prepare to not stop listening all day/week/etc:
youtube=https://www.youtube.com/watch?v=c8WOrY-zkxQ&w=640&h=360