NEWS
New 'Twilight Saga: Breaking Dawn Part 2' Stills Released of Kristen Stewart & Robert Pattinson!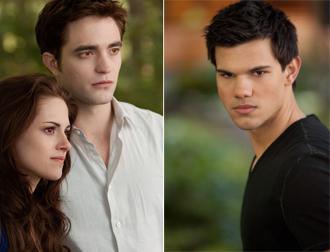 We still have seven months to go until The Twilight Saga: Breaking Dawn - Part 2 hits theaters, but Summit Entertainment is giving us a sneak peek at the final film in the beloved franchise!
Two new photos from the movie were released today of vampire Bella (Kristen Stewart) and Edward (Robert Pattinson), as well as our favorite BFF werewolf Jacob (Taylor Lautner).
OK! VIDEO: THE TWILIGHT SAGA: BREAKING DAWN PART 2 TRAILER RELEASED FEATURING VAMPIRE BELLA!
Article continues below advertisement
The director of Breaking Dawn - Part 2, Bill Condon posted a letter to fans on Twilight's Facebook page, revealing that a new trailer is on the way very soon!
"It's truly crazy to think that it's been a year since we wrapped production in Vancouver, since for those of us in the editing room the work has never stopped," Bill wrote, adding that some of the cast will be heading back north to shoot "some additional shots" to complete some "tiny missing pieces."
"I am really looking forward to being back on set with some of the friends I've made on my Twilight journey, like the great Guillermo Navarro, our cinematographer, and his crew. And yes, Rob and Kristen will be there too, to pop in those gold contacts one last time..."
OK! NEWS: FIRST OFFICIAL PHOTO FROM THE TWILIGHT SAGA: BREAKING DAWN PART 2 RELEASED
Bill also revealed that the posters for Breaking Dawn - Part 2 are "unlike any Twilight images you've seen before." So get ready, Twihards!
What do you think of the new movie stills?