NEWS
'New Year's Eve' Cast Gets Trashy In NYC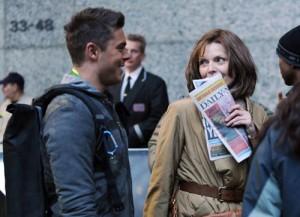 The New Year's Eve cast is in full swing and the filming just keeps getting funnier! Zac Efron and Michelle Pfeiffer were on set in NYC yesterday and were all giggles and smiles. Zac sported a bike while Michelle tossed herself into a big pile of NYC garbage. Zac chuckled as Michelle fell into the piles of trash and Michelle couldn't help but laugh at herself too!
Article continues below advertisement
This is definitely a cast that just keeps on growing. Some other names that we can expect to see in the flick are stars Katherine Heigl, Jessica Biel, Jon Bon Jovi, Abigail Breslin, Robert De Niro, Ashton Kutcher, Seth Meyers, Lea Michele, Sarah Jessica Parker, Til Schweiger, Sofia Vergara, Hilary Swank, Ryan Seacrest and Josh Duhamel.
OK! NEWS: NEW YEARS EVE CAST KEEPS GROWING JOSH DUHAMEL RYAN SEACREST TO JOIN
We're pretty psyched to see all the stars come together for a fun film!