NEWS
Nick Cannon Gives Mariah Carey Baby Update: "We Are Having Twins!"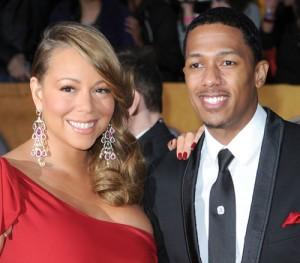 Finally after weeks of speculation, Nick Cannon has confirmed that he and wife Mariah Carey are having twins! And no, it wasn't another slip of the word "they"! Nick delivered the joyous news today to the public, and the first person to get confirmation about the twins — President Barack Obama!
This morning on his 92.3 radio show (via Celebuzz), Nick shared an anecdote about the President Obama asking the singer what everyone has been wondering — twins?!
Article continues below advertisement
OK! NEWS: NICK CANNON ATTEMPTS TO CLEAR UP RUMORS MARIAH CAREY'S HAVING TWINS
"On Friday, you will see my wife perform in front of the President and the first family ... and she opens the show with a song she wrote called "One Child" which is kind of ironic. It's a festive holiday song ... she even speaks of how she was inspired writing this song and being pregnant. So as she's singing this song and goes backstage and has the opportunity to speak with the President and the First Family, and they even questioned my wife about 'So what are you having, are you having twins?' At this point she hadn't told anybody anything ... and because of the excitement, she was overwhelmed and she shared with the President that we are having twins."
During an interview last month, Mariah referred to her baby bump in the plural form "they" leaving many to wonder if she's having twins. But now the truth is out!
Congratulations to the happy couple!