NEWS
Nick Cannon Reveals He's Fighting a 'Rare Form of Lupus' & Admits His Twins Are His Motivation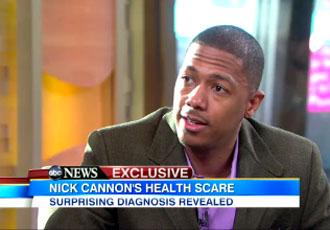 Nick Cannon has had a whirlwind of a year so far, battling mild kidney failure, and lung and heart problems before discovering that he has lupus nephritis, which he explains as "a rare form of lupus that's just attacking my kidneys.
"They thought it was just kidney disease, and then they were trying to figure out why my immune system was attacking my kidneys, and that was sort of the root of it all," Nick explained on Good Morning America this morning, where he opened up for the first time on TV about his illness. "I scared a lot of people. I scared myself."
Article continues below advertisement
OK! GALLERY: MARIAH CAREY PERFORMS IN NYC WITH NICK CANNON'S LOVING SUPPORT
Nick revealed on Feb. 17 that he would be leaving his morning radio show due to doctor's orders to cut down his hectic work schedule. And although he is still keeping his America's Got Talent hosting gig, Nick admits that giving up his lifestyle has been very difficult.
"I have been ordered to sleep at least six hours a night," he said. "They say rest is probably the best medicine. I'm dealing with it. Of course I'm not used to the medicines, but I feel like I'm starting to figure out a lot of holistic ways, meditation and stuff, to get through it." Luckily, though, Nick has his wife, Mariah Carey, whom he refers to as "Dr. Carey," to help him through his struggle and make sure he follows his new routine. OK! NEWS: MARIAH CAREY OPENS UP ABOUT NICK CANNON'S ILLNESS: "IT'S A VERY COMPLICATED THING" "The diet is the worst part," Nick said. "I can't have any fast food anymore… no Happy Meals, nothing." "Mariah made me an egg-white sandwich before I left the house this morning," he added. "She takes care of me, makes sure I'm eating what I'm supposed to be." Because it's not just about him anymore; Nick has a family who's inspiring him to be better. "I have to be around for my children," he gushed about 11-month-old twins Monroe and Moroccan. "They're my motivation for the whole thing."