NEWS
Nick Cannon's Tweets Fuel Mariah's Pregnancy Speculation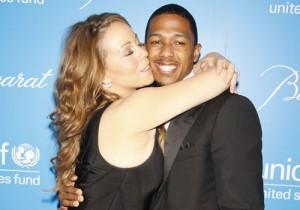 With all the rumors that Mariah Carey, 40, is pregnant, her hubby Nick Cannon addressed the issue on his Twitter and radio show; however instead of debunking the rumors, he fueled the media firestorm, delivering rather cryptic messages.
Nick took to his Twitter yesterday with the following message:
Article continues below advertisement
While Nick won't give a definitive answer, he talked about a future with his wife that does involve kids on his radio show this morning.
The comedian/actor joked that if and when he has children with Mariah, the couple will emulate George Foreman's naming practices for their offspring.
"We're gonna name all of our kids Mariah — no matter if they're boys or girls. ... Mariah No. 1, Boy Mariah, Man Mariah, Tall Mariah. It's gonna be a house full of people named Mariah."
"My wife has been in this business for a long time and dealt with so many things, she knows how to handle herself. She's a very, very strong woman, probably the strongest woman I know, and I love her dearly," he added. "So, when she tells me something, I'll tell y'all, probably after I tell my mama."
Well at least Nick and Mariah have their baby names ready!