NEWS
Nick Hogan: Another Car Crash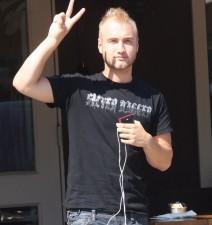 After serving his eight month sentence in prison for a reckless driving incident, Nick Hogan seems to still be having issues behind the wheel as the 19-year-old son to wrestler Hulk Hogan was involved in yet another collision this Sunday morning in Downtown LA as reported by TMZ.
Ironically enough Nick had just attended a charity fundraiser for Keep it on the Track, an organization designed to keep drivers' safe while on the road according to TMZ.
Article continues below advertisement
Previously, Nick was placed in jail and given a term of probation and community service to follow after being behind the wheel of a vehicle that put the passenger in a coma.
Luckily, TMZ claims that there was no police report taken at the scene and no major injuries were accounted for after Hogan's Nov. 29 less major collision.