NEWS
Nick Hogan Out of Jail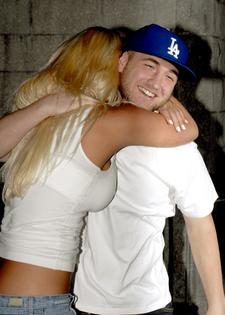 After spending six months in the slammer for reckless driving, Nick Bollea, aka Nick Hogan, was released from Pinellas County Jail in Florida early this morning.
Hulk Hogan's son was behind the wheel in August 2007 and allegedly racing another car, when he crashed the Toyota Supra, severely injuring his friend and passenger, John Graziano. The former Marine wasn't wearing a seatbelt and will need medical care for the rest of his life.
Article continues below advertisement
Nick was set free for good behavior, and ran right into the arms of sister Brooke Hogan, according to the Tampa Tribune.
Mom Linda Bollea, who is in the middle of a bitter divorce from Hulk, released a statement on Tuesday morning to ask that the media respect the family's privacy, saying:
"This is our time as a family to come together to support Nick's adjustment back into the public life, keeping it as normal as possible. Neither Nick, nor we as a family, has any interest in making this anything but private. We respect the media's role and only ask that they respect our privacy. Nick went into prison as a juvenile and has experienced something that will mold and affect him for the rest of his adult life. His focus is to make a positive difference in this world, media-free. Since his future actions will speak louder than any words, there is no need to speak to the media at this time."