NEWS
Nick Jonas and Miley Cyrus To Reunite On Song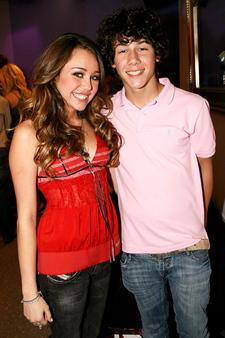 Well, this could be awkward.
Miley Cyrus is going to have to go into the studio with her ex, Nick Jonas, to record a song for their label, Disney.
And even though Miley just this very morning told Ryan Seacrest, "me and Nick are really close friends now" -- we can't help but think working with a former BF could be a little tense.
E! News reports that his bandmates/brother, Joe and Kevin, plus some other stars, will also record Pass It On at a session later this week.
Article continues below advertisement
Earlier today Miley addressed her relationship with the Jonai on Seacrest's radio show.
"Everyone thinks that me and the Jonas Brothers have this big feud going on, and me and Nick are really close friends now. We talk all the time and he's one of my best friends."
"We don't hate each other," she added. "We really love each other. He's really cool, and I'm happy we've been able to stay friends."
But come on guys, all that time cooped up in the recording booth together? And what will Miley's BF Justin Gaston think of all this?
We'll just have to wait and see...