NEWS
Nick Jonas on Possible 'Glee' Cameo: "I Would Be Honored"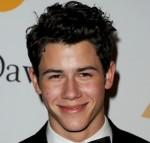 While the Jonas Brothers' music has not been covered yet, is a member of the beloved trio headed to Glee? Nick Jonas opened up on a possible cameo on the hit FOX show.
Nick, 18, chatted with TVSquad about joining in on the Glee pandemonium and his upcoming guest spot on the new NBC sitcom Mr. Sunshine.
Article continues below advertisement
"I really do appreciate the use of music in Glee," Nick told TVSquad, via Celebuzz. "I think everyone can relate that's in the music business. Everyone's just thankful that music is kind of popular again because Glee does a great job of incorporating it into the show. I would humbly say that if there's ever an opportunity they see that I could work well on that show, I would be honored. Plus I think that cast is really talented — it would be fun."
Another show Nick is a big fan of is ABC's No Ordinary Family.
"Getting on a plane. I forgot to download the newest episode of No Ordinary Family though. Oh well. Maybe for the return flight then." he just Tweeted.
We hope Nick decides to expand his signing career into acting!