NEWS
Nick Lachey Says Upcoming Wedding to Vanessa Manillo "Doesn't Rival or Compare" to His Vows with Jessica Simpson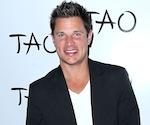 As Nick Lachey gets ready to wed his bride-to-be Vanessa Manillo, the What's Left of Me singer explained that in no way is he comparing this trip down the aisle to his previous nuptials to Jessica Simpson while out celebrating his bachelor party in Las Vegas over the holiday weekend.
"There's nothing really that I would say, 'Oh, never again.' This is a fresh thing; it's a new thing. It doesn't rival or compare to anything I've done in the past, or will do in the future," Nick told reporters of not associating his upcoming marriage to his first on Friday night, "It's its own thing and I wanted to keep it that way."
Article continues below advertisement
OK! NEWS: NICK LACHEY & VANESSA MANILLO'S WEDDING TO AIR ON TLC
After sharing his "I Dos" with the now also engaged Irresistible artist in 2002 on camera, Nick understands why some would see similarities to his forthcoming vows, also slated to be filmed for television, but still wants everything to be unique.
"All the comparisons, I understand why they're there, for obvious reasons, but a wedding is a very, very, very intimate and special thing, and I wanted it to be what she wanted it to be, and I've tried to work hard to make it that," Nick said to reporters at Tao Nightclub while out with his buddies.
While the 37-year-old and Jessica went through a very public divorce after just three years of marriage, Nick insists that this time around, he wants it to be all about Vanessa, 30, without any emphasis on his past.
OK! NEWS: VANESSA MANILLO & NICK LACHEY THROW WEDDING SHOWER
"I'm careful not to say , 'We're not going to do this again,' because that's a one-sided statement. I'm divorced, but it's important to me that this is Vanessa's day, and it remains important to me that this is her day," the Kentucky native gushed.
Article continues below advertisement
As sweet as a groom could be, Nick declared that it's his goal to make the couple's wedding ceremony as special as possible for his future wife.
"I want her to experience everything that being a bride is and can be, and so I wanted this to be everything that she ever dreamt it would be and more, and I'm trying to make that happen for her, and for us. I'm excited about it."
So what does the former 98 Degrees band member have up his sleeve for the big day, set to be filmed for a "one-off special," on TLC?
"It's not going to be extravagant in the sense that, we're talking about royal wedding, William and Kate extravagance. We wanted to create a life experience for ourselves, and for our friends and family," Nick explained to reporters, "It's going to be an intimate thing; it's not going to be a big, blown-out, 400-person ceremony in Central Park or anything like that. It's for us, it's for the people in our lives who are close to us and mean a lot to us. That's the way we wanted it, and I'm happy we're able to do it that way."
Article continues below advertisement
After shooting Newlyweds with Jessica, an MTV reality show that documented the couple's relationship, Nick admitted that it wasn't an easy decision to agree to have his personal life put back onto the big screen this time.
OK! NEWS: NICK & VANESSA - "HAPPY BIRTHDAY TO US"
"We kind of wrestled with that for a while, for obvious reasons. Having done reality TV in the past, I didn't necessarily want to jump right back into it without having thought it through to great length, and we did. But this is very different from doing a reality series. It's a one-off special, it's a chance to kind of have a great experience and a great moment in our lives documented on TV, and also for us, to have a great wedding video at the end of it. It's very different in my mind from doing a reality show."
Jessica, 30, announced her engagement to former NFL pro Eric Johnson just days after Nick popped the question to Vanessa last November.