NEWS
Nick Lachey Tired of Talking About Jessica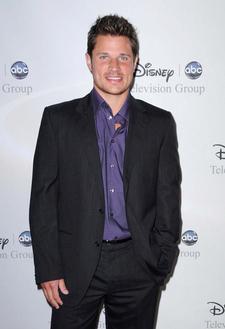 Nick Lachey has a new single out and his romance with Vanessa Minnillo is going strong, but all anyone can ask about is his ex-wife Jessica Simpson's weight.
"I think it's ridiculous," he told OK! at the PrimeSport and DeBartolo Sports & Entertainment Club 009 Super Bowl Pre-Game party. "I don't understand why it's such a big deal and people keep asking about it to be honest with you."
Lachey's used to people asking about his ex-wife, but more than three years on after the end of their marriage, he admits the constant questioning can start to get old.
Article continues below advertisement
"It's the life we're in. It's he life we lead," Lachey says. "At the end of the day, it's still life like anybody else."
Lachey's new single, fittingly called "Patience," was recently released to radio and his new album, Coming Up For Air, is expected to come out in April or May. The 28-year-old singer tells OK! the songs will showcase how much he's grown since the November 2005 split from Jess.
"Life is in a different place for me now than when I did my last record," Nick says of 2006's What's Left of Me, which was written a month after Simpson, 28, left him. "It's not so much one moment of time in my life so it's a little bit more upbeat than the last one."
Nick and Vanessa, 28, have been together since early 2006, but despite the occasional reports of an engagement, the pair have yet to make wedding plans. The 35-year-old tells OK! he's happy with where he is at this moment.
"She's a guy's girl," he says about avid sports fan Vanessa, who stayed at home to work and let Nick have a guys weekend. "We don't really go out that much any more. We're more into the movie thing – dinner and movie. We're just comfortable."
Article continues below advertisement
While Lachey's life and career has changed drastically over the last decade, which started with the popularity of boy band 98 Degrees, Lachey says he not opposed to taking things back to where they started.
"Who knows?" he answers when asked if 98 Degrees will ever get back together. "Right now younger brother and bandmate Drew Lachey is doing his own thing and I'm doing my own thing."
One thing Nick's learned is that you never know what will happen in life.
"One day, will it make sense? Yeah, maybe," he says. "It's one of those things where you can't really predict the future."
By Laura Lane