NEWS
Nick Lachey Too Nice to be 'Idol' Judge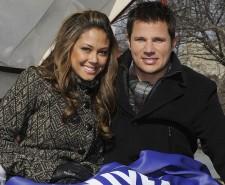 Now that Howard Stern is in talks to fill Simon Cowell's seat on American Idol, Nick Lachey can breathe a sigh of relief that he may not be called upon to become the next American Idol judge.
It's a good thing because the former 98 Degrees singer doesn't feel up to the role.
"I probably wouldn't be the best Simon Cowell replacement," the What's Left of Me crooner, 36, tells me during the Share the Love with Nivea event held today in NYC's Central Park. "I'm not a good objective judge. I like to try and uplift people, and sometimes that show feels the need to not do that."
Article continues below advertisement
Just two days after soaking up the sun in Miami for the Super Bowl, Nick and girlfriend Vanessa Minnillo get their winter on by riding in a horse-and-buggy.
The bubbly former MTV VJ, 29, baby talks with the white horse who has been ready for the noon event since 9 a.m.
"Hi buddy," she says. "Can I pet his nose?"
It is sweet to see Nick nearly 13 years after I chatted with him for MTV during a Jammin' 92 radio event in Cleveland.
"Oh gosh, that was the very early days," he says. "Wow."
At the time, the 98 Degrees single Invisible Man had just been released, but the boy band didn't hit the big time until the following year. I tell him he's done well for himself. "Thank you," he says. "Well, I'm still here, so that's saying something."
He's pleased to be promoting Nivea's Share The Love program.
"It's a virtual hug and kiss chain," Nick says. "We're encouraging everyone to go online to niveausa.com and upload your own video of you hugging and kissing, and add that to the chain. For every video uploaded, there's a $1 donation that Nivea's going to make with Big Brothers and Big Sisters, which is an organization I've been affiliated with for a long time and care very much about. It's been a great partnership, and now we're here and it's Valentine's Day, so we're encouraging people to continue to share the love and get behind this."
Here are my pix with Nick (retro 98 Degrees before-they-were-famous alert!) and Vanessa:
a href="http://idek.net/nZo">