NEWS
Nick Lachey's Last Word Outtakes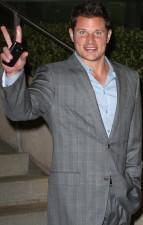 Nick Lachey bravely took OK!'s Last Word interview in front of Vanessa Minnillo during a Share The Love With Nivea event held in NYC.
When Nick, 36, was asked about the last time he lied, Ms. Minnillo offered to walk away – and he said "yes!" Get all the drama that you won't see in the Kendra issue on newsstands now.
Last time you went home to Ohio?
The last time I went home to Ohio was for the Bengals playoff game against the New York Jets. The ill-fated playoff game, so that was the last time I was in Cincinnati. I was there for the game. I have season tickets to the Bengals, and obviously it was the biggest game of the year by far, and I wouldn't have missed it for the world. We were there cheering for the Bengals.
Article continues below advertisement
Last time you felt starstruck?
Ooh. The last time I felt starstruck was when I played in our celebrity golf tournament in a foursome with Jerry Rice, who, congratulations to him, was inducted into the Hall of Fame. He's one heckuva a golfer too. I'd say playing 18 holes with Jerry Rice is probably the last time I was starstruck.
Last time you watched a sports game?
The last time I watched a sports game was when I watched the Super Bowl, so that was an easy one. My team was not in the game, but I was definitely pulling for the Saints. It was nice to see them win.
Last time you saw your brother Drew?
Watching the Super Bowl
Last time you took a vacation?
Gosh. My birthday. We take a trip every year on our birthday. We both have the same birthday, so we kind of celebrate that by taking a trip. We relaxed. We went to an island to be determined or named later.
Last time you checked Facebook or Twitter?
I'm not really an avid Twitterer or Tweeter, and I don't have a Facebook page. I'm not a very good new media person. I should get better.
Last time you were caught in a snowstorm?
I'd say the last time you were caught in a snowstorm was Cincinnati at Christmas.
Here are my pix with Nick (retro before-they-were-famous 98 Degrees alert!) and Vanessa:
Pick up the OK! on newsstands now to find out what Nick doesn't say here. The cover line is "Kendra: How I Lost Another 10 Lbs. in 10 Days."