NEWS
Nick & Vanessa Have "Intimate Conversations" in the Shower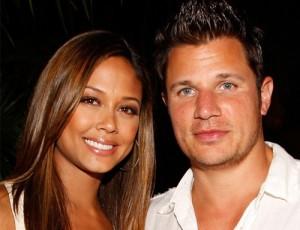 Vanessa Minnillo wants you to know about her showering habits with boyfriend Nick Lachey. She recently opened up in a candid interview with Parade magazine, revealing she and Nick share their most intimate moments in the shower — twice a day. TMI anyone?
"We shower, honestly, at least twice a day. We shower in the morning and we shower at some point during the day or before bed. It's so funny because we've turned it into an intimate time for each other," Vanessa tells Parade of her private time with Nick. "We both have our own shower heads so we just talk while we're soaping up and doing our hair. It's not a sexual thing and it's not a romantic thing, it just becomes an intimate thing. You're in your full form, so to speak, and you're vulnerable and we just both let our guard down. I've had some of my most intimate conversations with him in the shower."
Article continues below advertisement
Vanessa also commented on Nick's ex-wife, Jessica Simpson, who always seems to be in the spotlight, simply stating, "The past is the past."
OK! NEWS: NICK LACHEY & VANESSA — "SHE'S THE MOST SPECIAL PERSON I'VE EVER KNOWN"
While Nick may have had a reality show with Jess, is there more reality TV in his future with Vanessa?
"I think that a competition reality show is different than a reality show. I personally have no desire. Nick has done one before and he was very successful at it and whatever he chooses to do with his future I will support him 100 percent. But me personally, I don't know," she said opening up about the rumors. "I think that there's something to be said for keeping intimate moments to yourself, but he said it best, 'You never can say never.' But I personally don't want to do one."